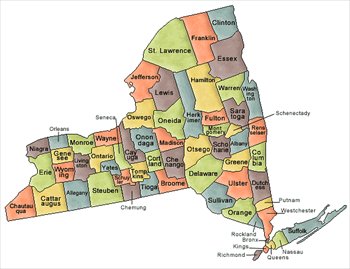 New  York is the Empire State
Has 19.8 M people
New York was where the first presidential inauguration took place: George Washington took the oath of office in New York City on April 30, 1789.
New York Medicare Supplement Insurance – Medigap New York
New York Medicare Supplement Insurance and Part D Prescription Drug Plans are available with a brief phone consultation to determine your needs and explain your benefits.  Medicare Supplement and Medigap insurance are synonymous terms that refer to Medicare Plans that have low or no out-of-pocket costs, allow you to choose your doctors and hospitals, allows your coverage to go with you anywhere in the country.  New York Medigap plans are available by guaranteed issue when you are about to turn 65, are retiring after age 65 or when your current Medicare Advantage plan is canceling service.
If you are already a New York senior or will be joining this group soon then enter your zip code above to compare Medicare Insurance plans, premiums and benefits that you may already know are appropriate for you.  Medicare enrollment materials are available to be mailed at your request in the Enrollment section.  Consult with a professional Medicare Supplemental Advisor for answers to any questions you may have.
When to Enroll in a New York Medicare Supplemental Insurance Plan?
If you are turning 65 soon, you need to be covered under Original Medicare Part A and Part B to receive a Medicare Supplement Insurance Policy in New York.  You qualify for Part A, Hospital, when you or your spouse has worked for 40 quarters (ten years).  Part B, Doctors, is provided to you at a monthly cost that increases for those in higher incomes.  If you are already receiving social security payments when you turn 65, then you should be automatically enrolled into Part A and Part B.  Call to confirm with Social Security.  If you will not be receiving social security payments when you turn 65, then you may want to call to make sure you are going to be enrolled into Part A and Part B soon.  If you have not received anything in the mail then call Social Security for information at 1-800-772-1213.  As long as you are eligible, you can enroll in Medicare Part A and Part B up to three months before and three months after your 65th birth month.
You are eligible to enroll in a Medicare Supplemental plan six months before your 65th birth month.  During this enrollment period, you can not be denied coverage and will not have to answer any health questions.  Although you will not receive your policy until you are covered under Medicare Part A and Part B, some insurers will still allow you to send you application and the insurer will lock your rate for not only the six months before your Part B effective date, but also the twelve months after your effective date.  For most of us, your Part B effective date is the 1st of the month in which you were born.  For those born on the 1st of the month, then your Part B effective date is moved up to the 1st of the previous month.  Contact a Medicare Supplemental Advisor for more information on these important dates.
New York Medicare Supplemental Insurance policies do not work with any other type of health insurance, including Medicare Advantage Plans, employer/union group Medicare coverage, Veterans Administration benefits, or TRICARE.
New York Medicare Supplemental Insurance Plan Comparisons
New York seniors are eligible to compare Medicare premiums and switch their current Medicare Supplement plan to a new Medicare Supplement plan at any time during the year.  As long as you can answer the health questions then getting approved into a new plan is a way to reduce your premiums.  Every year, some Medicare Advantage and Medicare prescription drug plans choose not to renew their existing Medicare contracts.  If your Medicare Advantage Plan provider sent you a non-renewal notice this year, then that notice will serve you to enroll into a Medicare Supplement plan without having to answer health questions.  Contact an Advisor for other conditions that are important to understand for your benefit.
New York Medicare Supplement Excess Charges
Several states have mandated that Medicare providers are not able to charge more than what Medicare allows.  That means that for those providers that accept Medicare cannot charge Excess Charges.  The states includeConnecticut,Massachusetts,Minnesota,New York,Ohio,Pennsylvania,Rhode IslandandVermont.  In all other states, providers are able to bill up to 15% of what Medicare Allows directly to the Medicare Beneficiary (you).  Medicare Supplement Insurance policyholders with Plans F and Plan G have coverage for Part B Excess Charges.
New York Medicare Supplement Insurance Plan Standardization
In 1990, the Medicare Supplement Plans were standardized into 15 plans labeled Plan A through Plan L.  Then in June of 2010, the Medicare Supplement Plans were "Modernized" to streamline under utilized benefits.  Today, there are 10 plans labeled Plan A, Plan B, Plan C, Plan D, Plan F, Plan G, Plan K, Plan L, Plan M and Plan N.  All benefits have been standardized according to the plan letter.  So even if you live in a different county or state, Plan F inManhattanhas the same benefits as Plan F inPoughkeepsie,NY.  Plan F is standardized across all states.  Also the New York Mutual of Omaha Plan F has the same benefits as the New York AARP United HealthCare Plan F.  A key differentiator is the premium that each company charges for their Plan F.  Talk to a Medicare Supplemental Advisor to discuss other important factors in selecting a health care company.  Other providers of Medicare Supplemental Insurance plans include AARP, Mutual of Omaha, Gerber Life, United HealthCare, Blue Cross Blue Shield, Assured Life, New Era Life and Genworth.
New York Medicare Part D Prescription Drug Coverage
While some New York Medicare Advantage Plans have Part D Prescription Drug coverage included with the plan, Medicare Supplemental Plans do not.  And even though you do not take prescription medicine, you may want to pick up a low cost Part D plan in order to have availability to lower cost prescription drugs when you need them.  And, by enrolling in a Part D Plan when you are eligible, you will avoid penalties for not having a plan in the future.  Please call Medicare Supplemental Advisors for more information on this subject.
One of the benefits of have a separate New York Medicare Part D Prescription Drug Plan is to have the ability to calculate and compare the different drug formularies that have the lowest possible cost per year based on your generic and/or brand name drugs that are specific to you.  Not just the formulary that comes with a Medicare Advantage Plan.  With a separate Part D plan, you can check every year during the annual open enrollment period which plan best for you and your current formulary.  Contact us or complete the form in Part D with your prescription name and dose per day to get a list of approved Part D companies that best meet your prescription requirements.  As part of our service to you, we will be happy to help you find a plan tailored to cover your prescription drug formulary.
Medicare Supplemental Advisors serve all of New York including Nassau County, Suffolk, Rockland, West Chester, Richmond, Orange, Dutchess, New York and Saratoga County, NY.  New York Medicare enrollment is performed through a needs analysis of the New York Medicare supplement insurance available in your area.  Speak to a licensed Medicare advisor when enrolling into a New York Medicare plan, or compare New York Medicare Plans when looking for replacement.
Always make sure that you have a complete and thorough understanding of the Medicare plans, premiums and benefits.  Call for a confidential discussion about Medicare plans that are right for you.
Medicare Supplemental Advisors.com is an informational website.  Please consult with a Licensed Medicare Supplemental Advisor in order to confirm your selection of the best plan and rates.  Medicare Supplemental Advisors is an independent agency and is not connected with or endorsed by the United States Government or with the Federal Medicare Program.