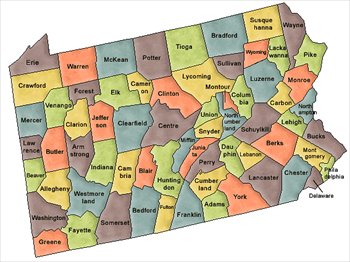 Pennsylvania Best Medigap Supplemental Insurance Plans – PA Medigap Plans
Fun Fact-Pennsylvania's nickname is The Keystone State because it was the middle colony of the original 13 colonies and because Pennsylvania has held a key position in the economic, social, and political development of the United States.Three of our most treasured documents were written in Pennsylvania: the US Constitution the Declaration of independence, and the Gettysburg address.
If you're already eligible for Medicare in the Keystone State or will be joining Medicare soon, then enter your zip code above to compare Medicare Insurance plans, premiums and benefits that are appropriate for you. If you have already made a selection on your Medicare Supplement insurer and plan, then you can request Medicare enrollment materials to be completed and mailed to you for your review and signature. Consult with a professional Medicare Supplemental Advisor for answers to your questions today.
For many of our clients new to medicare, the multiple plans and providers can be confusing.  That's why our clients have appreciated our free personalized Medicare Insurance Report.  If you are interested, then please call us today.  Or, you can enter your name, phone and email in the Medicare Quote Report page.  This free report will provide you with the following 2 key benefits:
1.  Top Rated Best PA Medicare Supplement Insurers at No Cost to You
Our report to you includes an analysis of the top 5 best rated PA Medicare supplement providers and plans based on your area and your needs. Major  providers of Medicare Supplement Insurance in Pennsylvania include AARP United HealthCare, Mutual of Omaha, United World Life, Keystone, Independence Blue Cross Personal Choice, Highmark Blue Shield, Blue Cross of Northeastern PA, Capital Blue, Humana, Aetna's ARLIC, Assured Life, and more.  We receive a commission from the insurer for our services so there is never a charge to you. We are an independent broker that represents mutiple insurance companies so we are committed to selecting the best or most appropriate plan based on your needs.
2.  Top Rated PA Medicare Part D Prescription Drug Plans
Only those brokers that are really concerned about your business will also take the time to provide the top 3 best rated Medicare Part D Prescription Drug Programs PDP that have the lowest annual cost based on your prescription drug formulary. We continue to earn your business by saving you hours of work and frustration by providing this report to you each year after you enroll with us.
When to Enroll in a Pennsylvania Medicare Medigap Supplement Insurance Plan
Please contact us at least three (3) to four (4) months before you turn 65 or three (3) to four (4) months before you plan to retire to allow for a smooth planning process.  If you are turning 65 soon, you need to be covered under Original Medicare Part A and Part B to receive a Medicare Supplement Insurance Policy in PA.  You qualify for Part A, Hospital, when you or your spouse has worked for 40 quarters (ten years).  Part B, Doctors, is provided to you at a monthly cost that increases for those in higher incomes.  If you are already receiving social security payments when you turn 65, then you may consider enrolling into Part A and Part B.  It's a good idea to call and confirm with Social Security.  Talk with us in order to determine your needs.
If you are still working or are covered under your spouse's plan, then you do not need Part B until your spouse's employer plan terminates or your spouse retires.  Ask us to provide you with a comparison of your spouse's employer benefit plan vs. Medicare plans to see which plan is best for you.  Many clients are surprised when they can get better Medicare Supplement coverage at a lower premium.  All comparisons of plans are confidential at Medicare Supplemental Advisors.
Some insurers allow you to enroll in a Medicare Supplemental plan six months before your 65th birth month. Guaranteed issue enrollment period provides that you can not be denied coverage and will not have to answer any health questions.  For some seniors with existing medical conditions, this is your chance to get a supplement plan without having to answer any medical questions.  Although you will not receive your policy until you are covered under Medicare Part A and Part B, some insurers will still allow us to submit your application and the insurer will lock your rate for not only the six months before your Part B effective date, but also the twelve months after your effective date.  For most of us, your Part B effective date is the 1st of the month in which you were born.  For those born on the 1st of the month, then your Part B effective date is moved up to the 1st of the previous month.  Contact a Medicare Supplemental Advisor for more information on these important enrollment dates.
Easy and Confidential Enrollment Process
Most of our enrollments are completed with counseling over the phone and by U.S. Priority mailing of the completed enrollment materials to you. Our focus is Medicare Insurance and it's all we do.  Since we are an independent broker agency, we are entirely objective in our recommendations.  We continually go through a rigorous screening process to determine the top picks in Medicare supplement and prescription drug insurance companies.
PA Medicare Supplemental Insurance Plan Comparisons
You are welcome to compare Medicare premiums and switch your current Medicare Supplement plan to a new PA Medicare Supplement plan at any time during the year.  As long as you can answer the health questions on the application, then getting approved into a new plan can be a good way to reduce your premiums.  Every year, some Medicare Advantage and Medicare prescription drug plans choose not to renew their existing Medicare contracts.  If your Medicare Advantage Plan provider sent you a non-renewal notice this year, then that notice will serve you to enroll into a Medicare Supplement plan without having to answer health questions.  Request your personalized Medicare Insurance Report on the site Contact Information page.  Only an Independent Advisor can help you understand other conditions that are important before you switch insurers.  You may be better off with the insurer that you have, or you may want to switch to a more financially stable insurer from what you have now.
PA Medicare Supplement Insurance Plan Standardization and Medicare Supplement Plan Modernization
In 1990, the Medicare Supplement Plans were standardized into 15 plans labeled Plan A through Plan L.  Then in June of 2010, the Medicare Supplement Plans were "Modernized" to streamline under utilized benefits.  Today, there are 10 plans labeled Plan A, Plan B, Plan C, Plan D, Plan F, Plan G, Plan K, Plan L, Plan M and Plan N.  All benefits have been standardized according to the plan letter.  So even if you live in a different county or state, Plan F in Exton, PA, Chester County, has the same benefits as Plan F in Pittsburgh, PA.  Plan F is standardized across all states.  Also the PA Mutual of Omaha Plan F has the same benefits as the PA AARP United Healthcare Plan F.  A key differentiator is not the premium that each company charges for their Plan F.  It is the financial stability of the insurer to maintain minimal increases each year with a contiuous stream of new business year after year. Talk to a Medicare Supplemental Advisor to discuss other important factors in selecting a health care company and Plan in your area.  Other providers of Medicare Supplemental Insurance plans include AARP, Mutual of Omaha, Gerber Life, United Healthcare, Blue Cross Blue Shield, Security Medicare, BlueCare Security, Independence Blue Cross, MedigapSecurity, Assured Life, New Era Life and Genworth.
In order to view, compare and select plans that are available in your area, please complete the Medicare Quote Report for access to all plans.
PA Medicare Supplement Plan Part B Excess Charges
Several states have mandated that Medicare providers are not able to charge more than what Medicare allows.  That means that for those providers that accept Medicare cannot charge Excess Charges.  The states include Connecticut, Massachusetts, Minnesota, New York, Ohio, Pennsylvania, Rhode Island and Vermont.  In all other states, providers are able to bill up to 15% of what Medicare Allows directly to the Medicare Beneficiary (you).  Medicare Supplement Insurance policyholders with Plans F and Plan G have coverage for Part B Excess Charges.
Pennsylvania has a law called The Health Practitioner's Medicare Free Control Act, commonly known as "the MOM legislation."  This stands for its original name, Medicare Overcharge Measure.  Enacted in 1990, it protects people on Medicare from being overcharged by doctors and other health care practitioners by making it illegal in Pennsylvania to charge a higher fee than that approved by Medicare.
This fee, commonly known as excess charges, is the amount of money billed by a health care practitioner to a patient that is in excess of the Medicare approved charge. Many people have never had excess charges by a doctor.  But for others, the overcharges can total several thousand dollars per year.  However, if you are a Pennsylvania Medicare beneficiary, doctors and other health care practitioners must accept the Medicare reasonable payment for the Medicare covered services they offer.
In other words, they may not bill you more that the approved charge set by the U. S. Secretary of Health and Human Services. Not all states have this. If you plan to move or get medical services in a different state, please contact us regarding that states' excess charges policy.
PA Medicare Supplemental Insurance policies do not work with any other type of health insurance, including Medicare Advantage Plans, employer/union group Medicare coverage, Veterans Administration benefits, or TRICARE.
The Pennsylvania Medicare Health Plans offered include Highmark Medicare.  Highmark Blue Cross Blue Shield serves the 29 counties of Western Pennsylvania. Highmark Blue Shield serves the 21 counties of Central Pennsylvania and the Lehigh Valley.  It also provides services in conjunction with Blue Cross of Northeastern Pennsylvania in Northeastern Pennsylvania and Independence Blue Cross in Southeastern Pennsylvania.
Mutual of Omaha provides Medicare Medigap supplemental insurance through their subsidiary company, United World Life Insurance Company.  AARP, United HealthCare, Gerber Life, Humana, Assured Life and New Era Life also provide supplemental plans.  PA Medigap plans include Plan A and Plan B, Plan C, Plan D, Plan F, Plan G, Plan K, Plan L, Plan M and Plan N.  Plans and rates vary by insurer.  Plan benefits are standardized across all states. Contact a Medicare Supplemental Advisor to discuss the best coverage for your premium dollars.
PA Medicare Supplement Plans for Social Security Disability Recipients
The guarantee issue period for those already on SSDI after 24 months from the qualifying disability is very important to understand your options at that time.  If you are on SSDI and are about to be enrolled into Medicare Part A and Part B, then contact us to discuss the importance of your guarantee issue period.  Not all plans are available in all states.
PA Senior Health Care Additional Resources for Older Pennsylvanians
PA Department of the Aging:  PACE, PACENET and PACE Plus Medicare are Pennsylvania's prescription assistance programs for older adults, offering low-cost prescription medication to qualified PA residents age 65 and older.  Call the PA Department of Aging toll free at 1-800-225-7223 for these and other programs.
Medicare Supplemental Advisors serves all of Pennsylvania including services for the best PA Medigap plans in Chester, West Chester, Montgomery, Norristown, Allegheny, Philadelphia, Bucks, Exton, Southampton, Delaware, Media, Lancaster, Northampton, Erie, Lehigh, Allentown, Pittsburgh, Downingtown, Berks, Reading and York County, PA.  The best PA Medigap plan enrollment is performed through a needs analysis of the Pennsylvania Medicare supplement insurance available in your area.  Speak to a licensed Independent Medicare advisor when enrolling into a PA Medicare plan, or compare PA Medicare Plans when looking for replacement PA Medicare Supplement plans.  Always make sure that you have a complete and thorough understanding of the Medicare plans, premiums and benefits.
Medicare Supplemental Advisors.com is an informational website and we do not guarantee the accuracy of such information.  You should  consult with a Licensed Medicare Supplemental Advisor in order to confirm your understanding and selection of the best plan and rates in Pennsylvania.  Medicare Supplemental Advisors is an independent broker agency and is not connected with or endorsed by the United States Government or with the Federal Medicare Program.